Undefeated in five matches, Montreal can tie team record with a win or a tie when they host Five Stripes Saturday at Saputo Stadium.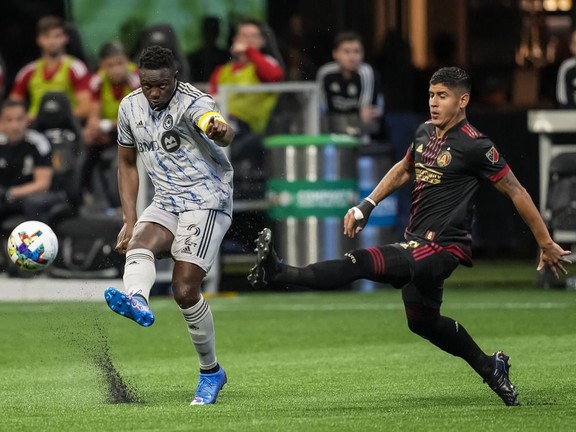 Postmedia may earn an affiliate commission from purchases made through our links on this page.
Article content
CF Montréal might be in the midst of its most successful run of the MLS season, but even-keeled manager Wilfried Nancy is keeping everything in perspective.
Article content
"This is the run for the moment and the objective's to keep going," he said after Thursday's training at Centre Nutrilait.
CFM (3-3-2), is preparing to host Atlanta United Saturday at Saputo Stadium (4 p.m., TVA Sports, TSN Radio 690, 91.9 Sports). Montreal is undefeated in five matches and would tie a franchise record with a win or a tie.
"If we win against Atlanta, it'll be good," Nancy said before adding, perhaps surprisingly: "If we lose but play well, it'll be good also. The objective's to put the boundaries to the maximum, as we can."
Coincidentally, this streak began with a 3-3 draw against the Georgia team on March 19 at Mercedes-Benz Stadium — a contest that could have sent CFM on a downward spiral. The visitors that afternoon squandered a late two-goal lead. Atlanta United, reduced to 10 men following the ejection of Dom Dwyer in the 67th minute, rallied with goals from Thiago Almada and Brooks Lennon for an improbable finish. Lennon's score, off a free kick from distance, came in stoppage time.
Article content
"What we did well in that first game, was the way we kept the ball — at least when we played against 11," Nancy said. "I felt my players were in control of the game. They were patient and composed with the ball, and moved it from side to side."
While the end of that game was discussed this week by Nancy and the players, it might also have provided the required tonic to begin salvaging its season. Since then, CFM has collected 10 of a possible 12 points, moving into sixth place — and above the playoff line. Nancy's message, in essence, has been to continue attacking, rather than sitting back and trying to protect a lead.
While CFM had scored 14 goals through eight games, it also has conceded a whopping 17. Nonetheless, it has held opponents to just one goal in each of the last three matches and might finally be rounding into form.
Article content
"We're a resilient team that's starting to grow," Canadian international defender Kamal Miller said this week. "We had a difficult start to the season, but I think it's getting better and better. The performance was always there; the results weren't. Now that the results are in, everything's falling into place nicely."
While Atlanta United also has a 3-3-2 record and is fourth in the conference, based on goal differential, this could be the opportune time to be facing the squad. The visitors have gone three consecutive matches without a victory, while being held to one goal. Atlanta has won just five of its last 26 on the road. The Five Stripes also haven't won in Montreal since 2018 and are missing several key players.
Article content
Goalkeeper Brad Guzan and midfielder Ozzie Alonso have been placed on the season-ending injury list. And striker Josef Martinez underwent knee surgery at the start of April.
Nonetheless, Nancy is understandably taking a cautious approach.
"They have good players and have a clear game plan," he said. "They're not going to change the way they play because they have injuries."
The organization announced Friday it will pay tribute during the match to Canadiens legend Guy Lafleur, who died April 22.
hzurkowsky@postmedia.com
twitter.com/HerbZurkowsky1